Six days ago, over twenty members of FibroHaven's Facebook community began a 21 day meditation challenge. The Chopra Center is hosting the challenge, with the thought being, it takes roughly 21 days to develop a ritual.
From davidji, Dean of The Chopra Center University:
"Rituals are powerful behaviors. And when you combine ritual with meaning, amazing things happen – you get transformation. And transformation is a form of evolution. So by adding meditation into your daily set of rituals, it will effortlessly become a part of you."
Each morning we wake up to a new guided meditation in our email inbox, and it has taken just six short days for me to appreciate, and even crave the meditations led by davidji. I think I am well on my way to creating a new morning ritual!
Todays meditation began with a body scan. This is an important and very powerful exercise we can all do daily. It does not need to be part of a meditation practice. On its own it is a great way to become present and in tuned with individual sensations in our bodies – good and bad. Often it happens that we acknowledge the pain and lose sight of the rest. A body scan will allow you to become aware of the parts of you that are quiet and comfortable, even in the most severe flares. If you begin your day with an active awareness and celebration of the good, it may just help to manage the other.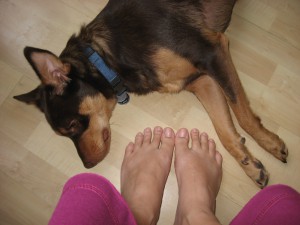 So while seated comfortably with my head phones in, I followed the gentle, almost seductive voice of davidji as he lead us in a celebration and exploration of our bodies. First, I celebrated my toes:
"How are my toes doing? How are my toes? Let's celebrate my toes."
I did not get past my toes and I was already smiling and joyful with this exercise. My toes felt good! Happy little toes! Happy to stretch and wiggle and slide across the cool, smooth surface of the wood floors. Who knew toes could bring such joy? (Besides my little Koko. She loves toes!)
As we proceeded to scan and bring awareness to our bodies from the toes up, I discovered more and more things to celebrate. I celebrated my feet for the stability they bring me – moving on to my shins and calves, on up to my knees – celebrating my knees for all their flexing and bearing, and for how hard they work. And on and on upwards. It was a magnificent celebration of my body – the same body that for so long has been the source of so much pain – physical, mental, emotional. Not today. Today it was a celebration.
Can you imagine scanning your body right now and finding things to celebrate? I hope you can. And if you cannot, please, try the day six meditation for yourself. It takes about 15 minutes from start to finish. It may be best to try it in the morning, but anytime you can find to sit down and meditate is a good time.
So today was a success, as have been the previous five day's meditations. I am so pleased I signed up to participate in this challenge, and grateful to have you to share it with. And I would really like to know – what did you celebrate today?