FibroHaven began in October 2008 with my first blog post. It had been suggested to me that writing would give me access to healing. Why I chose such a public format to begin writing I am not sure. Guidance from the Universe no doubt.
Within days of my first posts, I began receiving comments and emails from strangers who read my words and in them heard something of their own struggles of living with a chronic pain illness. It very quickly became clear to me that a lot of us were suffering, and we were suffering alone. Isolation is one of the most debilitating aspects of living with a chronic illness.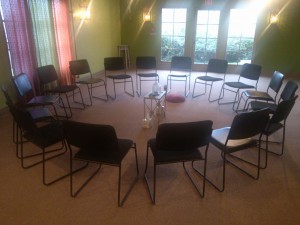 So I decided to start a support group. I found a support group on Meetup.com that had 5 members, and the organizer had just step down. So I step in. And that is how FibroHaven Support Foundation began. By our first meeting in November 2008 (just 5 weeks after my first blog post) we had 7 members. We met in a coffee shop – 7 strangers with very different lives, and one major thing in common – our lives had been completely disrupted by illness.
I will never forget that first meeting, and witnessing the power of community. Amazing healing happens when we can share with others who understand. A simple knowing look, or nod of acknowledgement can ease years of tension and fear, and even inspire some laughter and joy. It is the most consistent thing I am aware of after 5+ years of holding these meetings – Community is Everything, and is fundamental to healing.
At the time of this writing, we now have two chapters of FibroHaven in San Diego County, with nearly 600 members combined. Each chapter has a regular monthly meeting, and occasional social meetings as well. If you are in San Diego County and are interested in joining, please click on the links below.
Part of the FibroHaven mission is to open chapters of FibroHaven Support Groups around the county. If you are interested in starting a group near you, please contact me.
Local FibroHaven Support Group:
FibroHaven Support & Healing Group, North San Diego County – Note: This is a private group open to residents of North San Diego County and surrounding communities.
FibroHaven Support & Healing Group, San Diego – Note: This is a private group open to residents of the City of San Diego and surrounding communities.
Online FibroHaven Support Community:
FibroHaven Facebook Community – This is an open online community. All are welcome.