I may have mentioned it once or twice (like here, here, and here) – I am a huge proponent of yoga. If I had to list the things that have improved my life the most over this past year, yoga would be at the top of my list.
I was fortunate to have a great instructor introduce me to a gentle and restorative type of yoga. She also suffers from Fibromyalgia, and through yoga has learned to find balance, energy, and productivity in her life again. Her transformation with yoga was so encouraging she eventually became a certified instructor and began paying her good fortune forward to eager students like myself.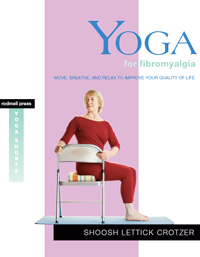 As my love and interest for yoga peaked, I began doing research and came across a great book on yoga tailored specifically for my needs: Yoga for Fibromyalgia, by Shoosh Lettick Crotzer. And as fate, destiny, coincidence or whatever you call it would have it, the instructor who taught me to love yoga, also uses Yoga for Fibromyalgia as the foundation for the style of yoga she teaches. How serendipitous is that?!
And now I am sharing this great book with you!
Yoga for Fibromyalgia is based on the principles that "yoga's physical practices are noncompetitive and adaptable to any individual, including those with special needs, such as fibromyalgia." The author, Shoosh, states clearly that it is her intention to help us find ways to improve our "quality of life by reducing stress, pain, fatigue, and muscle stiffness and by getting deeper sleep." Don't you just love her already?
About the Author

Shoosh Lettick Crotzer has been teaching yoga since 1974 and now specializes in working with students with special needs. She has a masters degree in diagnostic education. In 1994, while teaching for the National MS Society, she founded the production and distribution company Mobility Limited and wrote and produced the video Yoga for MS. In 1997 she wrote and produced Yoga for Arthritis in partnership with the Arthritis Foundation. She has given workshops and made presentations on yoga and arthritis at international rheumatology conferences.

Shoosh began her yoga training in India in the 1970s and continued with Sivananda Yoga teachers in Los Angeles. She has a background in Iyengar-style yoga and has studied with Joel Kramer, Ganga White, and Tracey Rich. Shoosh has taught yoga at universities, yoga centers, health clubs, and privately throughout the country. She is the founder and director of the nonprofit organization Enhancement, Inc., which works to improve the quality of life for breast cancer survivors. She lives in Morro Bay, California, with her husband, Colby.
Impressive resume wouldn't you say? Upon reading Yoga for Fibromyalgia it was clear to me that Shoosh understands and is sympathetic to the unique issues we face in regards to exercise. Her tone and knowledge put me at ease and encouraged me to progress through her teachings in a way that best served my needs.
Yoga for Fibromyalgia is organized into four parts:
Part 1 – Fibromyalgia and Yoga – Includes information on Fibromyalgia, yoga, and general guidelines. This is the section where you will learn to trust Shoosh and become eager to embrace her knowledge and expertise.
Part 2 – Yoga Poses for Fibromyalgia – Detailed explanations and photographs on how to do the poses and breathing techniques, explanation of the overall benefits of the poses and breathing techniques, and a list of any props you may need. Deirdre Carrigan models the poses in the photographs, and she too has Fibromyalgia and is a yoga teacher.
Part 3 – Practicing Yoga for Fibromyalgia – Shoosh gives guidelines to get us started such as where and when to practice. She also shares sequences of poses designed to target certain areas and to help with specific issues such as pain relief, improve sleep, reduce fatigue, and maintaining general flexibility and body awareness. (The Seated Eagle pose  on page 43 is awesome for stretching sore shoulder and upper back muscles, and I will be doing it the second I am done writing this post!)
Part 4 – Living with Fibromyalgia – Focuses on lifestyle suggestions that may help us live more comfortably and with reduced symptoms. For example: the importance of sleep, good nutrition, exercise, non-exercise movement, and psychological well-being.
Yoga for Fibromyalgia is organized so thoughtfully that depending on your needs on a particular day, you will be able to create the perfect routine – whether it be a seated beginner sequence, a sequence for upper body pain relief, a sequence to improve your sleep, or a complete maintenance sequence – you can do as much or as little as you need.
While encouraging us to get started in our practice of yoga, Shoosh is clear to remind us to take our time, understand that not all techniques are appropriate for everyone, and to listen to what our bodies tell us. She understands and acknowledges that Fibromyalgia can vary from "person to person and often from day to day" and has based her practice in this book on that foundation.
Are you ready yet to let Shoosh guide you through the restorative powers of Yoga for Fibromyalgia?
Good! Because her lovely publisher Rodmell Press has generously agreed to give one copy of Yoga for Fibromyalgia to a randomly selected commenter to this post. Just leave a comment, and on Monday April, 5 I will randomly select someone to receive a copy mailed to you directly from the publisher.
I am clearly a huge fan of Yoga for Fibromyalgia. Since returning to work I have been unable to attend the daily yoga classes that once fit so nicely into my schedule. I have also been traveling and dealing with the stiffness and fatigue of 5 hour plane rides. Without many of the poses and sequences in this book, I am certain I would not be fairing so well.
Yoga is peace
Yoga is strength
Yoga is flexibility
Yoga is restorative
Yoga is life
Note: You may comment as many times as you like, but you will only receive one entry into the drawing,