When I sat down and wrote my first post on FibroHaven over three years ago, I could not have imagined the many miracles that would result from sharing my desire to be well. That is truly what began this journey – my frustration and isolation from the years of living with a debilitating chronic illness, and my unrelenting belief that I am so much more – that my life is so much more than my illness. Boy, was I right!
Some of the miracles that have occurred since that day
That's right – Woman's Day Magazine!
Last November I received an email from the Health Director at Woman's Day Magazine asking me if I would be interested in writing an essay for the magazine sharing how I came to terms with having fibromyalgia. In particular, she was drawn to my post, A Life of Essence, Not Illness, and asked if, from that perspective, I would like to contribute to the magazine. Would I? My entire platform for FibroHaven is to inspire and encourage. What better way to do that than in a national magazine?
And so the next miraculous journey began
Next I received the email that they would be sending a photographer and a hair and makeup artist to my house for a photo shoot. Seriously? The photo shoot turned out to be an amazing adventure. The instant I met photographer John Dolan I was completely at ease. We spent the day exploring, talking, laughing, and oh yeah – taking photos.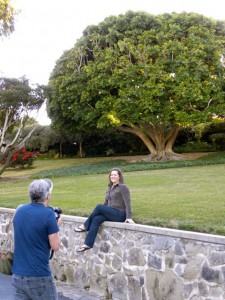 Sitting in front of his camera was a complete joy for me. A joy because I was fully present to the fact that it was truly not about me, but about the opportunity to share my journey of healing with a much larger audience than I currently reach with FibroHaven.
Today I am sitting here with an advance copy of the April issue of Woman's Day. The issue will be on newsstands March 7th. If you open to page 5, the contents page, there I am. And again on page 122 along with my essay. I cannot express how surreal it is to open a magazine and see yourself in it – to know that your voice, your story, is going to be read by millions.
Divine Guidance
We all have a purpose. And often it is through trials, loss, and pain that our purpose is revealed. I know my illness and subsequent journey of healing is about so much more than me. My purpose is to use my words, my voice to inspire others to begin their own journeys of healing. I was guided to create FibroHaven, guided to share my story, guided to start my support groups, guided to become a life coach – and through all of that – Woman's Day was guided to me and blessed me with this amazing opportunity.
Today is my day to be in complete appreciation
I appreciate everyone who has ever read this blog, commented on this blog, been touched by this blog, and shared this blog with your family and friends. I appreciate every person in my life who has loved and supported me along this journey, who has believed in me, hugged me gently, wiped my tears, acknowledged my pain, celebrated my successes, and loved me unconditionally. I appreciate Woman's Day for seeing the value in one woman's journey, and for sharing similar stories of inspiration for the past 75 years.
And I appreciate Me. I appreciate me for listening to that voice within that has been guiding me along my journey – the voice that says:
You are valuable
You are whole
You are strong
You are amazing
You are more than your illness
You are Love
I am.
And so are You!