A good friend of mine asked me recently, "What do you eat?"
Since going gluten-free over a year ago, and vegetarian for the past several months, it is a question I am asked frequently. And truthfully, it is a hard question for me to answer. Not because I have not been cooking and eating some pretty amazing food, but because I am a complete free spirit in the kitchen, and I seldom make the same thing twice.
For years my husband has urged me to write my recipes down, but it is really hard to write down what totally happens on the fly and is never measured. I have decided to make a concerted effort to start sharing some of my favorite recipes here, not only because it will help me to answer the "What do you eat?" question, but also because I will actually be able to come back and read them when I need inspiration or want to recreate the dish. Such a novel concept!
Before I share the simple and delicious Quinoa Tacos I made this evening, I want to emphasize once again how much I have benefited from a gluten-free diet. The daily aches and pains  in my hands have completely disappeared. The awful head and neck aches I never associated with food are much improved. My brain fog and fatigue are also reduced and some days nonexistent. Within 3 days of eliminating gluten from my diet I knew it was a lifestyle choice I needed to commit to for my health. I continue to reap the benefits of eliminating this inflammatory protein from my diet.
Being gluten-free is a challenge in itself, but eliminating meat from my diet has really tested my culinary creativity! And that is how we arrived at Quinoa Tacos.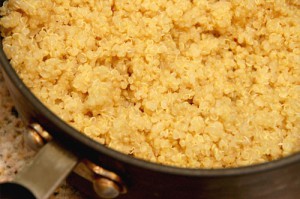 Quinoa is grain-like crop and is an excellent source of protein. It cooks up just like rice and is a very versatile food. So versatile in fact that tonight it served as a substitute for ground meat in our tacos.
So here I go, my first attempt at documenting a recipe. Follow along as best you can!
Quinoa Tacos
First I cooked one cup of quinoa (2 parts water to 1 part quinoa). Once cooked, I transfered the quinoa to a saute pan heated on medium heat with a small amount of olive oil. I then treated the quinoa just like ground meat and added the following seasonings:
Chili Powder – palmful
Cumin – half to full palmful
Paprika – palmful
Cayenne Pepper – quarter palmful
Garlic Powder – half palmful
Salt – pinch of kosher
Pepper – 10-12 twists of the grinder
Gluten-free Worcheshire Sauce  – three shakes
It would be pretty great if I could tell you exactly how much of each wouldn't it? The above amounts are my best guess, but really, truly, I think all seasoning should be done to taste.
Once seasoned, I cooked the quinoa for 5 minutes, and then I added a can of tomato sauce and cooked for 5 minutes longer. AND IT TURNED OUT AMAZING!
To complete the tacos, I added sauteed onions and red bell peppers, sliced avocados, grated cotija cheese, a dab or greek yogurt, and fresh cilantro. And of course I used corn tortillas. What would we gluten-free foodies do without corn tortillas?
Healthy and incredibly satisfying! So much better than the greasy, heavy tacos I used to make. No food coma here! Now if only I had thought to take a picture…
Next time, I promise…
And if you liked this taco recipe, just wait until I share my mashed potatoes and asparagus tacos recipe!