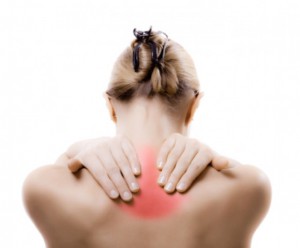 There's this spot on my upper back that my husband and I lovingly refer to as my baseball. Sort of ironic because I am actually a huge fan of baseball. But this spot on my back, is probably my least favorite part of my body. We call it the baseball because for years when it would get inflamed, it became a huge knot – about the size of a baseball. At least that is how I experienced it. Likely it was the size of a walnut, but where's the drama in calling it that?
I have come to realize this spot is where I carry my emotional pain. It has improved so much the last few years since I have immersed myself into my healing journey. I now practice self-compassion and self-acceptance, combined with yoga and meditation, and I have a completely different experience of pain in my body. The pain is still frequent and present, but my emotional response is significantly less. Instead of reacting to it, I now try to listen to it, and decipher the messages coming from my body, and respond with compassion.
Just as a newborn communicates the only way it knows how – smiling, crying, cooing – our bodies also communicate through the only means available – pain, discomfort, pleasure, etc. It is our work to listen to and respond accordingly to these messages. When a baby cries, the mother responds by tuning in to the cry and providing what the baby needs in that moment. It is a call and response that moms and babies have been perfecting for years.
But what happens when our bodies call out? Do we tune in, listen, and respond in a loving way that brings us comfort? Or do we tune out, and look for ways to escape? Or worse yet do we add to the pain by getting angry and adopting self-abusive behaviors?
For many years, this is exactly how I responded – take something to numb it (numb ME) and shut it up, distract myself with food or television, or better yet, I would get angry, frustrated, and indignant that this was my life, this was my body. None of these responses improved or made the pain go away. They simply made me a victim of my body, rather than a friend to.
Last week brought a lot of challenges, and with it a lot of emotion. I could feel the familiar ache in my back – the baseball – starting to get aggravated. I ignored it. I pushed through my days, pushed through my week, grimacing and getting angry every time I felt the pain, but never addressing it directly.
My body continued to send me messages, and I continued not to listen. So the messages started coming at me from different sources. I read Angel Cards frequently, and almost always before every yoga class I teach, I sit down with a deck of Angel Cards, and ask my angels and guides for guidance. Yesterday, this is the message they sent me:
Gentleness – Comfort – Nurture
I chuckled when I saw this, even shared it on Facebook, and then continued to ignore my emotions, ignore the messages. I even asked my husband to aggressively rub and pound on my "baseball" because I was so sick of the ache I just wanted it to go away. The exact opposite of gentle! He did, and I had a brief moment of relief.
And then I went to bed, and woke up in the middle of the night feeling like someone had taken a bat to my baseball, and my neck, and my head. I could not move, or even open my mouth to ask my husband for help. I was paralyzed with pain.
And this is why acts of self-love and compassion like yoga and meditation are called practices. It is a continual practice to adopt and integrate behaviors that increase wellbeing, and decrease suffering.
I know this place on my back is where I carry my emotional pain – and yet I still chose to ignore it, and worse yet I chose to be physically aggressive with it. And my body responded with even more pain. This is a typical cycle, and a cycle I am in the continuous practice of learning to break.
So tomorrow is a new day, a new chance to practice. It is an inside job, this learning to love and listen to my body. I forgive myself, forgive my judgement, and I even forgive my body. It is communicating with me in the only way it can. It is up to me to act on the messages, up to me to tune in and listen to the wisdom of my body – and the more I do, the more I learn to appreciate and love my body. Even my baseball.