As I continue my quest and expand my understanding of what it means to live well with a chronic illness, more and more I am drawn to alternative and non-traditional healing options.
I shop nearly exclusively at health food stores these days, choosing the organic option over the non-organic if available. I read, study, and research to make the smartest choices, but ultimately, my body is the  best indicator of what is best for me. The more I tune in, the more I notice the relationship between what I put on and in my body to how I am feeling. Lotions and sunscreen filled with chemicals dry my skin and make me feel toxic. Fruits covered in pesticide make me nauseous. Eating foods containing gluten gives me instant pain in my back and neck, and a headache that can last for days. I could go on, but I think you get the picture.


I am fortunate to have many alternative shopping options where I live, including one of my favorite places to shop Pharmaca Integrative Pharmacy. Pharmaca opened in my neighborhood nearly two years ago, and has become my go-to store for health and beauty products, vitamins and supplements, and so much more. They have grain-free food options for my pets, a large assortment of essential oils and herbal teas, and even carry one of my favorite greeting card lines – Papyrus. That's why when I was contacted about doing a review and giveaway of the store for FibroHaven I jumped at the chance.
My Review
Pharmaca is a truly beautiful shopping experience. The stores are colorful, very well merchandised, easy to navigate, and the staff is always friendly and helpful.
On my most recent trip I was in search of non-toxic sunscreen. I spend a lot of time at the beach, summertime or not, and am well past my days of competing with my girlfriends to see who can get the darkest tan. In particular I was looking for a mineral-based sunscreen, with active ingredients of zinc oxide and/or titanium dioxide. Natural sunscreens, made with organic and mineral sunblocks, are free of worrisome ingredients, but can be more expensive. I was pleased, and not the least bit surprised to see Pharmaca had a few options that fit my needs. My decision came down to two.
MyChelle Sun Shield is an SPF 28, mineral-based, full spectrum UVA/UVB sun defense that, according to the manufacturer: is environmentally-safe, and offers powerfully effective protection, yet is gentle enough for infants and non-irritating near the eyes. Translucent Zinc (11.6%) and Titanium Dioxides (0.67%) provide a safe alternative to harsh chemical sunscreens. The addition of soothing Aloe and Vitamin E help reduce signs of sun induced irritation.
True Natural Sunscreen gets its SPF 30 from an equal combination of active ingredients Titanium Dioxide and Zinc Oxide (6% each). Inactive ingredients include coconut oil, shea butter, eucalyptus and jojoba oils. According to the manufacturer: The Caribbean Coconut scent from aromatic Coconut Oil is sweet and subtle and safe for sensitive skin. This gentle and all natural mineral based formula provides an instant shield against damaging UVA and UVB rays for the face and body – reducing the risk of skin cancer and premature aging of the skin. Biodegradable, gluten-free and vegan – its the perfect choice for you, your family and the environment.
I can attest, the smell is heavenly, and True Natural is the sunscreen I selected. I have yet to wear it, but once again I was very pleased with the selection of natural options at Pharmaca.
And I seldom get out of there with just the one thing I went in for. They have a great selection of gluten-free snacks and bars, so I grabbed one of my favorites – Zing chocolate coconut bar. I really do love coconut!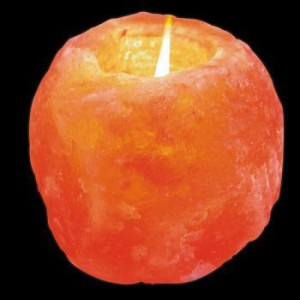 I also replenished the Vitamin D3 and Biotin I was running low on, and indulged in something I have wanted for a long time – a himalayan salt candle holder. The basic premise behind a himalayan salt lamp or candle holder is to help cleanse your indoor air and provide an attractive soothing light in your home. It is definitely attractive and soothing! I light it when I am meditating or doing yoga and it calms me.
One bag and about $50 later I was out the door. Another successful and enjoyable Pharmaca shopping experience.
Pharmaca stores are located in California, Colorado, New Mexico, Oregon, and Washington. And as a "thank you" for writing this review, they are giving away one $50 gift certificate to a lucky FibroHaven commenter.
The $50 Pharmaca Gift-Certificate Giveaway
All you have to do is leave a comment either here on this blog, or on FibroHaven's Facebook page under a posting about the giveaway. Leave a comment, and share what shifts you are making to live as well as possible with chronic illness. It can be related to the types of products you use, the supplements you take, the foods you eat, how you soothe yourself, or your overall state of wellbeing.
The winner will be chosen at random on August 4, 2013, and will be announced both here and on our facebook page. Once announced, I will contact you for your mailing address to provide Pharmaca, and they will mail you the certificate.
And to make your shopping experience even more enticing, you can print this Pharmaca $10 off coupon to take with you into the store. That's enough savings for your own himalayan salt candle holder!
The gift certificate is for in-store use only. It is not for online purchases, so click on the link above to see if there is a Pharmaca in your neighborhood.
I look forward to reading your comments!