Today should be day 24 of my 30 days of meditation. Instead it is the day I recommit myself to my personal goal of daily meditation.
I do not consider it a failure that I meditated for the first week of May, and then let myself get away from it. Instead I think of it as a learning opportunity – a chance to examine my goals and purpose further, and to ask myself some thoughtful questions.
Why did I stop?
The easy answer is – I stopped because I went on a family trip, and with all the travel and socializing it was difficult to find the time. And when I returned home I had a lot of work to catch up on, and support group functions to prepare for. I was busy! I had to prioritize – right?
Yes, these are the excuses I gave myself for why I got away from my meditation practice, but upon reflection they are not very good reasons. Isn't life's "busyness" the very thing meditation can help me manage? It is certainly one of the things I am hoping it will help me to manage, so I took a deeper look into my motivation.
Why do I want to continue?
Why is this important to me?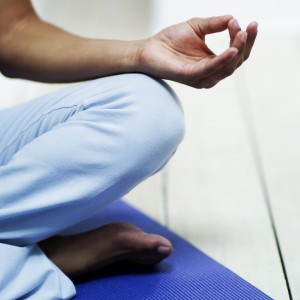 These questions were easier for me to answer, because despite my lack of follow-through, my motivations have not changed: I want to be well. I want to be whole. I want the peace and clarity of mind that comes with the silence. I want the daily charge and reinforcement I feel each time I meditate. I want to be centered and grounded. I want to feel alive and open to the world around me. I want the restoration of body that comes with the soundness of mind.
In her book, Beginner's Guide to Buddhist Meditation, Christina Feldman states, "Meditation requires patience, openness, and acceptance. Each moment in our life asks for our willingness to greet it as a teacher."
Patience, openness, and acceptance. I wish all three for my life. Meditation is a path to the life I am desiring. This is why I wish to continue. This is why meditation is important to me.
So with patience and kindness to myself, I begin again. And if I fail, I will begin again. There are no rules, or pressure, or standards. There is only my desire, and my never-ending ability to grow and learn.