I am an adventurous cook. I experiment with ingredients and flavors, seldom making the same dish twice. My husband always encourages me to write my recipes down, but I much prefer to "wing it" and see what tasty concoction I can create next.
All the things that make me a spirited chef, make me a horrible baker. I simply have no tolerance for carefully measured preciseness. I learned long ago that baking is not my forte, and I avoid it accordingly.
That being said, I recently discovered the easiest and most delicious Gluten Free Peanut Butter Cookie recipe that even this girl can master. Simple, simple, simple!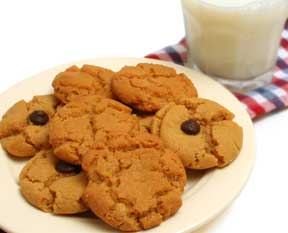 Ingredients
1 egg
1 cup sugar
1 cup peanut butter, any kind
1 teaspoon baking soda
1/2 teaspoon salt
1/4 cup chocolate chips (optional)
Directions
Preheat oven to 350º. Prepare pans: line with aluminum foil or parchment paper, or oil generously.
Put all ingredients into food processor and pulse until well blended. Or mix thoroughly by hand.
Make dough into (about) 36 evenly sized balls. Arrange balls on prepared pans leaving an inch or so between them. Add chocolate chips, if using, lightly pressing one or two into the top of cookie.
Bake until they flatten out a bit and start to brown – 12 to 15 minutes.
Remove from oven and leave on sheet for several minutes, until they begin to firm up, then carefully remove to cooling rack
Yum, yum, yum!
But this adventure chef could not leave well enough alone!
Gluten free cookies are great, but I wanted sugar free as well (link between sugar consumption and chronic pain), so I substituted 3/4 cup Agave Nectar for 1 cup sugar (adding the chocolate chips adds sugar, so leave them off if you want sugar free cookies). To compensate for substituting a liquid for a dry ingredient, I added 1 tablespoon of Bob's Red Mill Gluten Free Baking Flour.
The result was a moist, chewy, peanut buttery delight! I baked the cookies Friday evening to take to a Halloween party on Saturday. The cookies were a big hit! If I had not told them they were gluten and sugar free, I doubt anyone would have known.
Cookie Disclaimer
Just because something is gluten and sugar free does not mean that it is nutritionally good for you. But this is the time of year we all know we are going to indulge a little. So if we are not always going to make the best possible choices, we can at least minimize some of the indulgence. And with this recipe, you won't even realize you are making a sacrifice.